While on vacation, I had the unfortunately pleasure of coming down with what I like to refer to as The Plague: Lite. Punky enough to keep me on the couch for a few days with a fever but not sick enough to totally knock me out and send me to bed.
I took full advantage of my down time and decided to haul out the art supplies and take a couple of online mixed media classes. I had the BEST time reacquainting myself with my supplies and learning new techniques.
It also got me thinking about why I create art and what gets me inspired to do so. Sometimes it's a song or something someone else has written. Maybe another piece of art created by someone else or just some random object around the house. Inspiration seems to pop up everywhere and sometimes in the most unexpected ways.
I was thinking about doing a post of the things that inspire me the most to create my own art. But really, there are just TOO many to try and put them all in one. So, instead I'm going to do a series of posts highlighting what some of those things are.
To start I thought I'd share my "go-to" when I need a little inspiration. There are plenty of times I'm feeling "arty" but struggle with what to do. I'll sit at my table, staring at the blank piece of paper or notebook and become super frustrated because nothing is coming to me. When that happens, I turn to
Instagram
and search my favorite hashtags. There are also tons of photos of things that
#floralarrangments
Besides being just plain pretty to look at, flower arrangements are a great way to look at how colors interact with one another. I use them as a bit of a "jumping off"point for painting abscracts of flowers. Just blobs of color on the page to get my brain warmed up. And once the paint has dried, I'll go back in with a pen and add some details.
#artjournal
I think this is my favorite hashtag to look through. I started keeping written journal when I was either 12 or 13 and have been pretty consistent about it. But recently, just writing wasn't enough. It was getting to be a bit "boring". So, I've been using my journals as a way to work out ideas on a smaller scale before jumping to a big sheet of paper. Looking through this hashtag gives me all kinds of ideas for sketches, what papers I can use for writing AND creating. And it's just plain fun seeing how others use their journals.
#watercolor
Next to photography, painting in watercolor is right up at the top of my list of things I LOVE to do. It's is frustrating, finicky and some of the best fun I have when I'm "arting". This hashtag is always full of beautiful paintings others have done and the type or "style" is all over the place which is exactly what I need sometimes.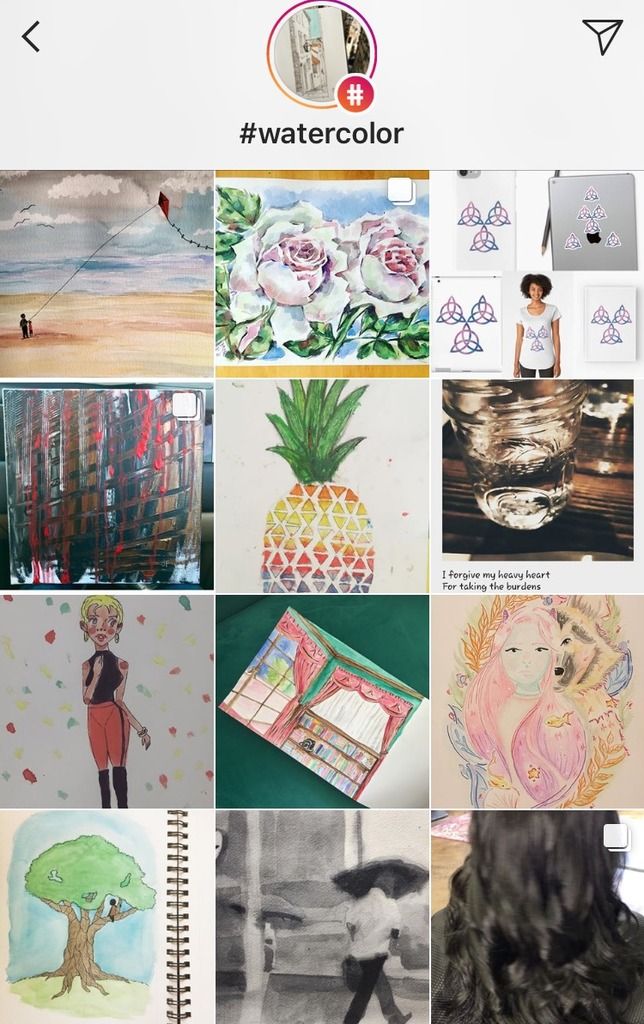 What hashtags do you use when you need to find a little inspiration?