This week is a 2-1 deal on the 'ole workout recap!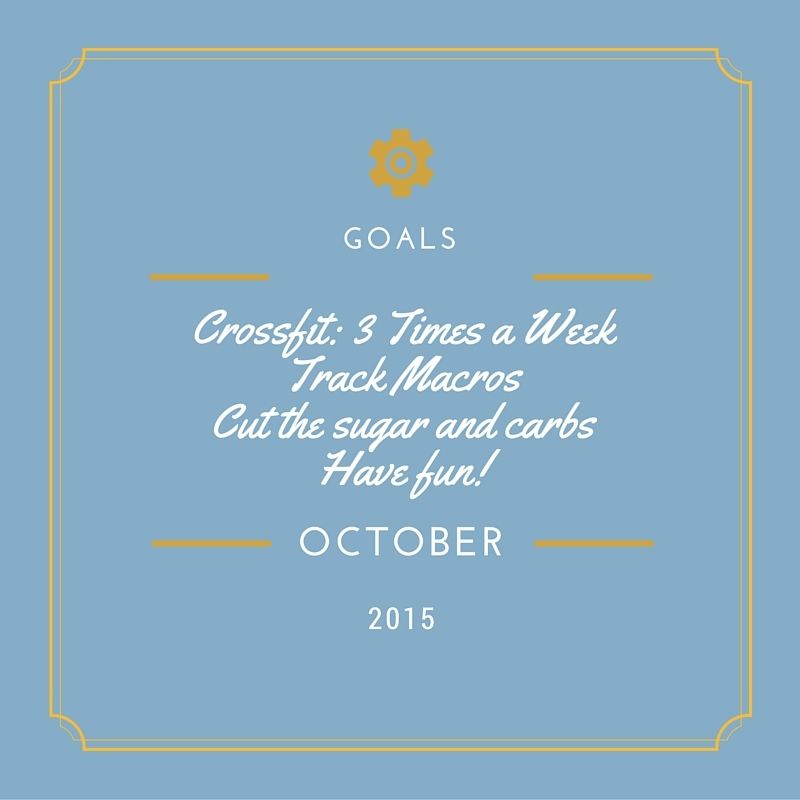 The last couple of weeks have been full of ups and downs. Between being sick, work and just general every day responsibilities, I'm finding once again that I need to have a set schedule for the gym and goals keeps me less scattered. So for October, I decided to finally put some goals down on paper to give myself something to work towards. Nothing too involved, just a couple of reminders to keep me on track.....
Crossfit three times a week
Track my macros
Cut the sugar and carbs
Have fun!
The biggest thing for October is that I changed my membership this month from a "come anytime you want" punch card, to committing to 3 days a week. I've also switched the class/session I am attending so that I am working out with more people. I'm finding that with a large group, I push myself to work harder and I am beginning to really understand why everyone raves about the Cross Fit community. The people I have been working out with are awesome! They are always really supportive and don't make this relative newbie feel like an outsider.
One of my favorite workouts from the last 2 weeks was one of the hardest workouts I have ever done.
It was a Metcon and included pretty much ever horrible exercise imaginable.......running, push ups, sit ups, burpees. It covered the whole spectrum and I
hated
loved every minute of it. The entire workout looked a little like this:
400 Meter Run
50 Kettlebell Swings 26#
40 Power Cleans45#
30 Sit Ups
20 Ring Rows
10 Burpees
10 Tiger Push Ups
20 Box Jumps 20"
30 Knees to Elbows
40 Hand Release Pushups
150 Single Jump Ropes
400 Meter Run
Going in, I had a goal of finishing the workout in under 30 minutes. I finished the workout in 28:47 minutes and wanted to DROP when I was done. But I felt SO GOOD. These are the kind of workouts that I love because so much of what we do makes me prove to myself that I'm a lot strong then I think I am.
Here is was the rest of the last couple of weeks look like......
Week 12
Monday: Cross Fit
Tuesday: Cross Fit
Wednesday: Off
Thursday: The start of an awful cold hit
Friday: The cold turned into the plague
Saturday: The plague sucks
Sunday: Plague contines
Week 13
Monday: Cross Fit
Tuesday: Off
Wednesday: Cross Fit
Thursday: Cross Fit
Friday: Off
Saturday: 5 miles!
Sunday: Off