I'm pretty sure we've all heard about
Stitch Fix
by now.
Stitch Fix is the personal styling service tailored to your taste, budget and lifestyle that helps you look and feel your best every day.
I finally signed myself up for the service after a friend of mine raved about the Fix's she had received.
I received my first box this week and I was not disappointed.
My hope with signing up for the service would be to round out my work wardrobe. Yes, I work at a hospital but we work in a pretty casual environment. Not business casual but not scrubs. Basically, I can wear whatever I want as long as it isn't jeans. Broad and slightly frustrating when trying to put together work outfits.
My first Stitch fix included a pair of skinny jeans, necklace, cardigan, sweater and blouse. I sadly wasn't thinking when I packed away the skinny jeans and necklace for return before snapping a photo. THIS, my friends, is why I am NOT a fashion blogger.
Anywho......despite being "jeans", they would have been PERFECT for work. They were charcoal great and looked lovely. Sadly, they didn't look lovely on me as they were too small. The necklace was super cute as well, just not something I would wear.
Onto the tops!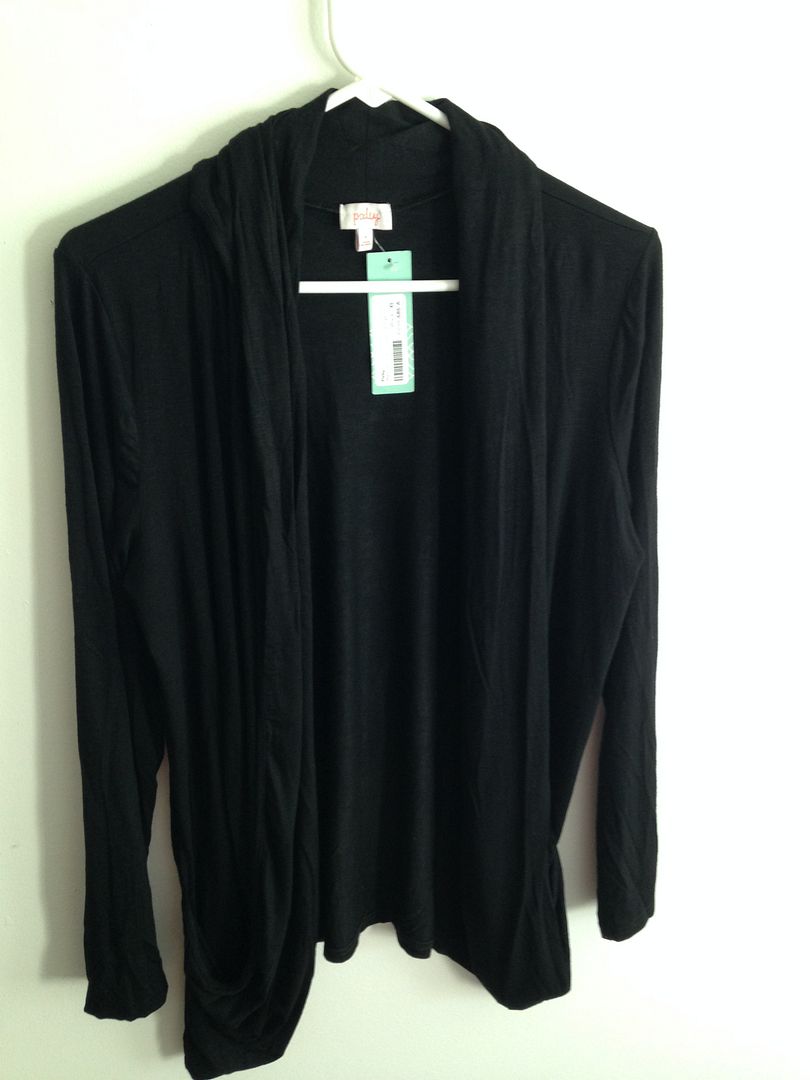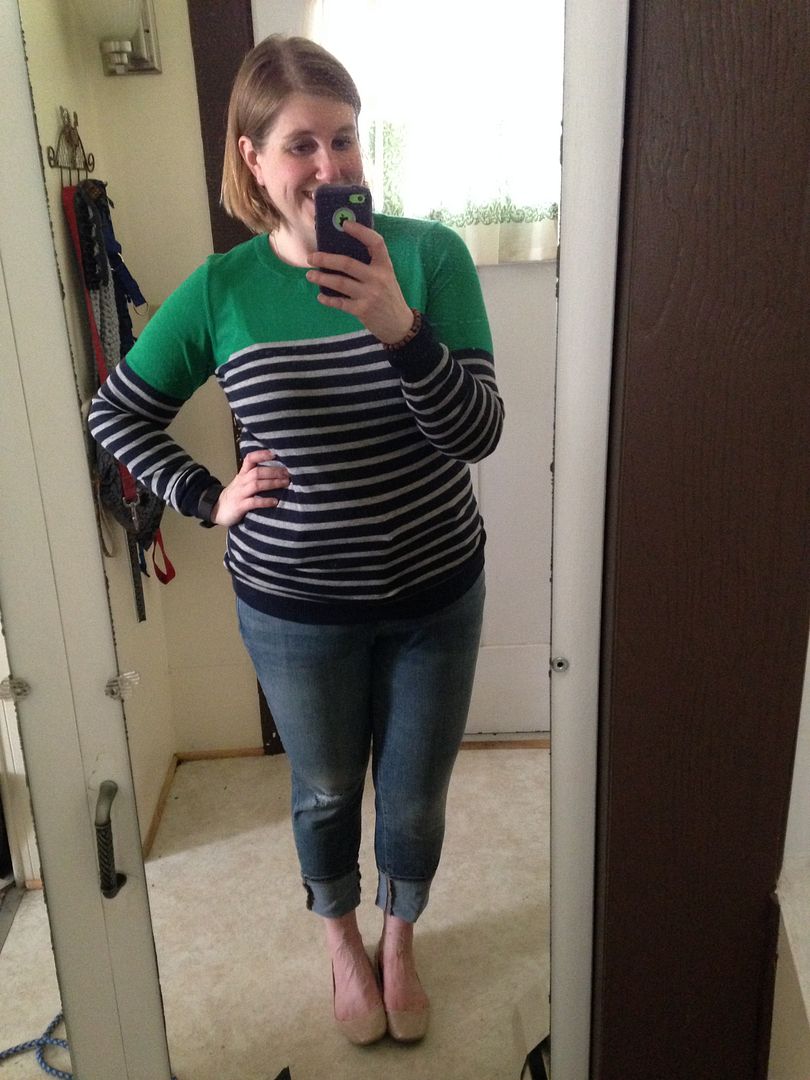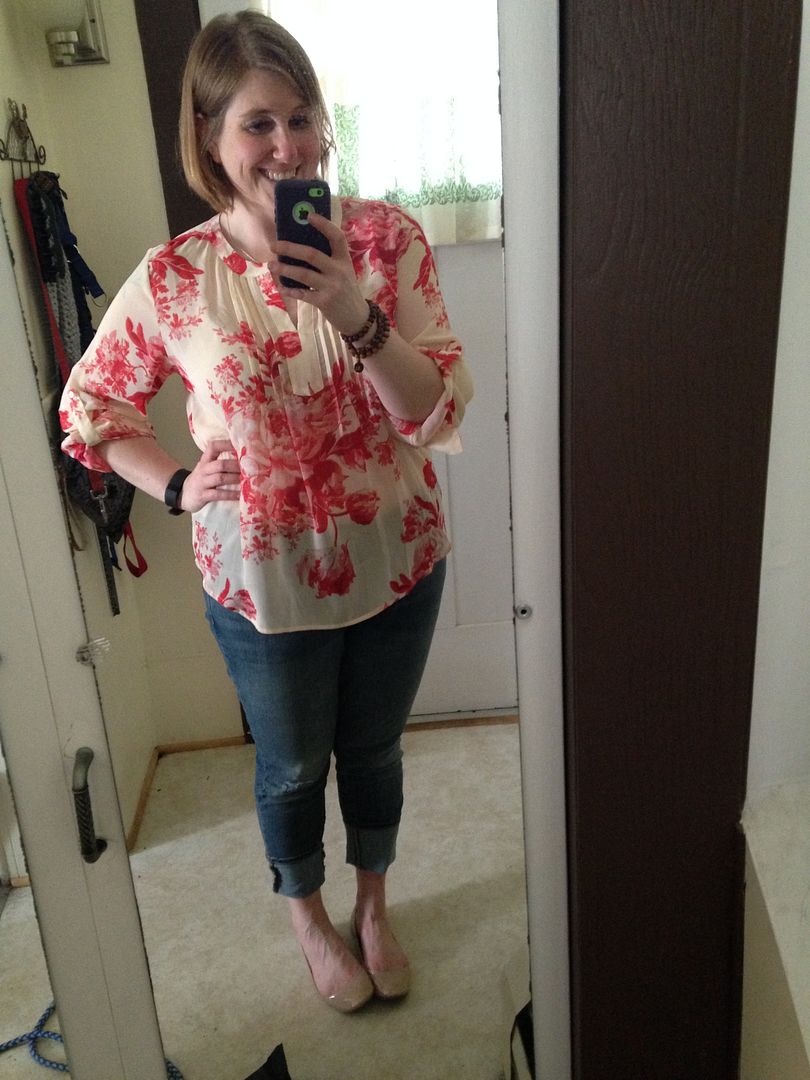 First, the sweater. I don't normally go for crew neck sweaters or strips for that matter. But I LOVED this one. It is so soft and fit really well. I knew immediately that I would be keeping it.
The floral blouse was super cute hanging up. But was not super cute on me. The sleeves were way too big (around and length) and just felt too boxy. I really wanted to love it, but I didn't.
And finally the black cardigan. Oh, cardigan how I loved thee. But did I really need a forth, even though this was a super soft cotton slub knit? No. Not I did not and sending it back was the adult thing to do.
Overall, I would say this was a win. Even though I only kept the one item, it was nice to try on things that I didn't pick for myself.
I am definitely looking forward to my next Stitch Fix as well as enhancing my skills as a fashion photographer.
Have you ever tried
Stitch Fix
? What did you think?