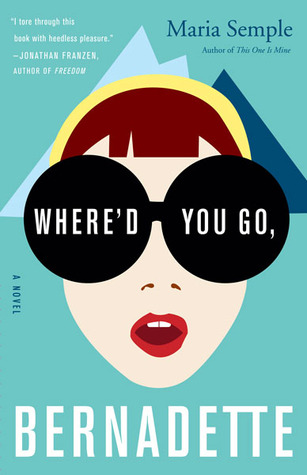 Where'd You Go, Bernadette? by Maria Semple
Bernadette Fox is notorious. To her Microsoft-guru husband, she's a fearlessly opinionated partner; to fellow private-school mothers in Seattle, she's a disgrace; to design mavens, she's a revolutionary architect, and to 15-year-old Bee, she is a best friend and, simply, Mom.
Then Bernadette disappears. It began when Bee aced her report card and claimed her promised reward: a family trip to Antarctica. But Bernadette's intensifying allergy to Seattle—and people in general—has made her so agoraphobic that a virtual assistant in India now runs her most basic errands. A trip to the end of the earth is problematic.
To find her mother, Bee compiles email messages, official documents, secret correspondence—creating a compulsively readable and touching novel about misplaced genius and a mother and daughter's role in an absurd world.
Oh, this book.
I can't do it justice by any means, so I'll just say this.......
I purchased this book because I loved the cover. Yes. I am one of those people who judges a book by its cover. It mostly doesn't work out in my favor. This time however, it did.
I loved this book from the word go!
There were quite a few times when I found myself laughing out loud at some of the characters and the troubles they got themselves into. The mudslide had to be my favorite. But there were always times when I found myself pulling for the characters you least expected to like as they found themselves in some pretty crummy circumstances.
I ABSOLUTELY recommend reading this book if you're looking for something fun to read.

Editors note: the only reason I gave this one 4 stars instead of 5 is because I HATED the ending. HATED IT. You'll have to read to book to find out why I hated it. Happy reading!