~Dusty Springfield
Today I am off to Detroit with my dad and brother for the last regular season home game for the Tigers. I am quite certain I've mentioned it a time or two already, but I can't wait. As much as I love watching a game on t.v., there is nothing quite like watching a game in person. Especially when the Tigers are going head to head with the White Sox for first in the AL Central.
So, in honor of todays game I am of course sporting my Tigers wear, which has nothing to do with what I'm about to write.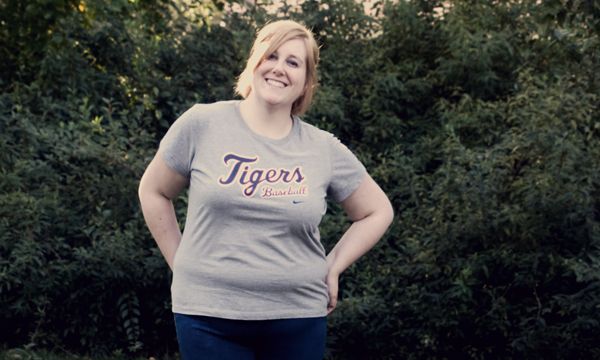 Dead Cow Girl

is putting together,

Fifty Shades of Glitter

and started thinking about

that

aspect of being a woman. I've always been the funny one. Quirky one. Smart one. Annoying one. Queen of Sarcasm. But pretty, beautiful,

sexy

....not on your life! That's just not where I fit or at least didn't see myself fitting because of what I had been told/taught.

I've written about it before and don't feel like rehashing those craptacular memories (thanks Grandma) but we've all been there. All been in a place where people have said ridiculous and cruel things which have sadly defined how we looked at ourselves. Because for whatever ridiculous reason, looking at ourselves through the eyes of others is easier than looking at ourselves through our own eyes and truly seeing who we are is much harder.

I spent a lot of time listening to those people who kept telling me that because I was chunky, chubby, fat that it equated to being unattractive and not

sexy

. But writing my submission for the

Fifty Shades of Glitter

project, it reminded me that those people were wrong. It reminded me that there is this whole other part of myself that terrifies the crap out of me, but one that exudes a ridiculous amount of confidence. Confidence that doesn't always come easily for me but I know is there.

This is a part of myself that I need to be reacquainted with. This is a part of myself that will work towards turning the "I wish I were...." thoughts into "Why, yes indeed I am....." thoughts.