From the title it sounds like I stuffed an actual vegan into a shell, which some of my friends might find to be quite funny. But I promise, no vegans were harmed in the making of this meal.
I have decided that I must have been an Italian grandmother in my previous life. It's the only reason I can come up with for why I am on a (somewhat obsessive) quest to make vegan versions of my favorite dishes.
This afternoon I tackled stuffed shells.
Random note.....I never made stuffed shells before I started following a vegetarian diet, so really this was my first time making them. Ever. Vegetarian or not.
I'm not going to lie, I fancy myself to be a pretty good cook to begin with, but I really out did myself this time! Seriously. I could have eaten the whole pan! I'm really looking forward to enjoying the leftovers this weekend and who knows, if they're lucky, maybe I'll take a dish to my parents.
Vegan Stuffed Shells
Ingredients:
20 jumbo shells (it took me three stores and having to buy these darn shells in bulk before I could make this dish)

1 package extra firm tofu

1 package spinach

28oz jar marinara sauce

2 tablespoons dried onion

2 tablespoons dried garlic

1/2 cup Nutritional Yeast

2 tablespoons basil

2 tablespoons oregano
Time for another confession before I begin: I don't exactly know much onion, garlic, nutritional year, basil or oregano I used. The amounts given above are my best estimates. I know. I know. Ultimate fail when trying to share a recipe. I blame this on years of cooking with family members who use a "dollop of this" and "glop of that". Sounds appetizing, doesn't it!
Preheat oven to 350 degrees.
In a mixing bowl mash tofu with fork (I like to break it up with my hands). Add spinach, nutritional yeast, onion, garlic, basil and oregano. Mix with a fork to combine.
Set aside.
In a large pot boil the shells as directed on the package. Drain and rinse the shells under cold water.
Place enough spaghetti sauce on the bottom of an 8 X 12 baking dish just to cover. Stuff the shells with the tofu ricotta mixture, and place them in the baking dish.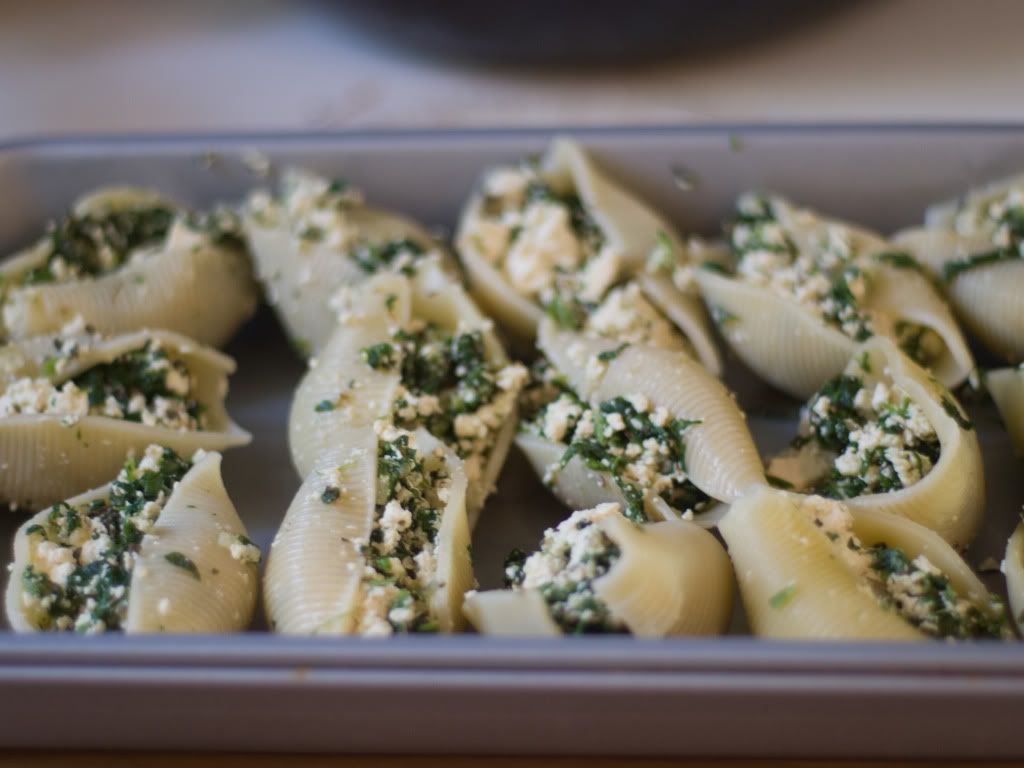 Pour the remaining sauce over the shells.
Cover with foil and bake for 30 minutes. Let cool for 10 minutes and enjoy!